Single Pane Glass for a Wineroom? What about Climate control? All Glass Wine Room? What type of glass for wine storage? Search no more. Expert answers to your questions about designing an exquisite, custom wine showcase displayed in a Glass Wine Cellar or Room.

Builders Glass specializes in creating a one of a kind all Glass Wine Room. We are also a Vintage View Showroom Partner and specialize in Racking Design. Not only do we install the frameless glass walls and racking, we offer creative wall treatments for your Glass Wine Room.
We love custom glass wine rooms for so many reasons – it's an entire space of functional art. Glass wine cellars provide a fantastic and truly unique atmosphere for entertaining, and they add unique beauty and interest to any décor. Best of all, they are the perfect way to showcase the creativity and splendor of a fantastic wine collection right in the heart of your home. What could be better?
I find that most homeowners and wine lovers need little convincing on whether or not to install a custom glass wine cellar…the questions really start when they begin to consider all of the options that lie before them. Endless customizable options mean that glass wine cellars can be designed to fit any home's needs and budget.
For starters, I strongly prefer wine cellars that are installed in the frameless fashion, using ultra-clear glass. The all-glass look a frameless wine wall provides is clean, modern, and breathtaking look! Using ultra clear glass, it is nearly invisible. The ultra-clear glass is held in-place in a slim u channel. All of the attention is focused on your collection. The Glass is the finishing touch, adding just the right amount of shiny bling factor.
Now, lets answer some of the most common questions I get.
What temperature should wine be stored at?
Although a storage climate of 53 to 57 degrees will work for all varietals, some experts claim that your cellar can climb into the mid-60s without negatively affecting certain wines (as long as you plan on drinking them within a few years). However, keeping your wine at a constant 55 degrees is best for bottles that you want to age for decades, since any exposure to raised temperatures over the long-term could result in a cooked wine that tastes flat. Similarly, if your cellar dips below 45 degrees, you could also ruin your wine. Air becomes dry at lower temperatures, which causes the cork to shrink and the wine to leak or oxidize. The basic guideline is as long as your cellar is under 70 degrees and above 45 degrees, your wine should be safe over the short-term (a few years).
Don't I need Insulated Glass in my climate controlled wine cellar?
When you are searching for what type of glass your wine room should have you will probably hear about Insulated Glass, also known as double pane or thermopane glass. Insulated Glass is two pieces of glass with an airspace between them. When it comes to construction world, Insulated glass is the standard choice in cooler climates, where the goal is to keep the cold out of the space. Insulated glass, combined with low- e coatings does an excellent job of keeping the cold out of a home. In Florida, the needs are very different. The goal is to keep the heat out. To keep the heat out, reflective and tinted glass types actually perform much better than Insulated Glass. The reality is Insulated Glass and 1/2″ single pane glass provide comparable insulating factors. More important than the glass type is the air leakage around the glass. Framed glass obviously eliminates this. Frameless glass needs to be measured and installed with the proper channel and fit. The glass measurements and tolerances are very important. Clients rely on our expert glass wine cellar design and installation to ensure their wine cellar glass is done properly. It is ultimately our long history and proven system that speaks for itself. We fit the glass in a way that the majority of our clients decide not to add any seals to their frameless doors! They find the tight fit of the glass is more than sufficient for maintaining climate control.
Still need more convincing?
Remember you are adding wine cellar to the INSIDE of your already climate controlled home. The cooling unit is only cooling the difference in temperature of your home. Here is an example to illustrate. As a most discriminating wine collector, that is storing bottles for 10 years plus you will want to keep your cellar at 55 degrees. If you keep your home at 72 degrees, for example, this is still only a temperature difference of 17 degrees. Also, consider the square footage of your wine cellar. Even the largest wine cellars only make up a fraction of the square footage of the home.
Placement- Keep your wine cellar away from the home's windows
Lighting- Only use energy efficient lighting that doesn't put off heat
Find a Refrigeration Contractor that has Wine Cellar Experience
In summary-
With proper refrigeration, the 1/2″ glass will maintain the same climate control properties of the framed insulated glass– each are capable of maintaining temperatures ideal for wine storage – 55°F to 65°F.
Again, Finding the right Refrigeration company is important. Make sure they have installed refrigeration in glass wine cellars before. An experienced refrigeration contractor will ensure your wine room stays at your desired temperature. Refrigeration for a frameless glass wine storage will need to be beefed up. Expect to spend more money on the refrigeration to ensure your all-glass wine cellar is temperature controlled, but you will save dramatically on the cost of the glass. Insulated glass wine cellars require a clad framing. The cost of the Insulated Glass and the Framing system is typically three times the cost of 1/2″ frameless glass.
What about Condensation?
The frameless glass wins over the insulated glass when it comes to condensation! Surprising right? The frame and gasket seals on a Framed glass wine cellar with insulated glass do provide a nearly airtight seal. This airtight seal, ironically, magnifies the condensation problem. Condensation is about humidity, not temperature regulation. If the humidity difference between the inside of the wine cellar is much higher than the home, condensation will occur. Or vice versa. If you like to open your house on a steamy Florida day, yep, you will get condensation on the glass of your wine cellar. If the humidity in your wine enclosure is too high you will get condensation on the inside of the glass.
This is the same as the condensation you will find on your iced tea if you take it outside on a hot day. Imagine your wine enclosure as a glass of iced tea. If your house is humid and hot, expect to find your glass dripping with this moisture.
In contrast, frameless wine cellar doors do have minimal air leakage at the perimeter of the glass. The interesting thing about this breathing space is the benefit it provides for eliminating condensation. The minimal air leakage at the edge of the glass helps to neutralize any climate variations, making condensation a non issue. To further illustrate this, I will use my nearly two decades experience as a window contractor as an example. I have specialized in retrofit, or replacement window installations. After replacing clients windows, I have had many clients complain they are getting condensation on their new windows. Something is wrong with my new windows! They are shocked, I am not. They would tell me 'my old, leaking windows never got any condensation!' This is when I explain to them that the new window is weatherized, caulked and sealed. It's going to have some condensation because of this. The only way to eliminate condensation on a window is too crack it to allow for some breathing space. I have explained condensation more times than I can count!
What Else Should I Consider for my Glass Wine Cellar?
Framed vs. Frameless is just the beginning. Clients pose many of the same questions when considering the installation of a glass wine cellar. Here are some of the design questions I get.
When is the best time to begin planning a glass wine cellar?
Ideally, the installation of your glass wine cellar will occur during new construction. This allows for a completely frameless look as all hardware is installed prior to the finishing of walls and flooring. It also allows you to plan and install refrigeration with minimal disruption and expense and to coordinate all of your glass wine cellar styling options with the décor of your new home.
The second option is to install a new glass wine cellar during a remodel. Much like installation during new construction, this allows you to coordinate styling of the wine cellar to the new décor of the room and – depending on the level of the remodel, hide channels to further achieve a frameless look.
Small wine collections do not require much storage space. We have installed beautiful glass wine cellars under stairways and placed shallow wine cellars that run the length of a blank wall – contributing beauty and elegance to the room without closing it in or monopolizing valuable floor space.
What type of racking should I consider?
There are many options to consider when selecting wine racks, but there really is only one choice for a modern wine cellar and that is Vintage View. We are proud to be one of Vintage View's premiere Showroom Partners. Visit our Glass Design Center to see the many options available with Vintage View Wine Storage Systems. We love the label forward design of Vintage View Racking. This allows you to see your wine collection. Label forward racking is clean, contemporary and convenient. Vintage View is the epitome of functional design.
Modern Customizable metal racking provides endless options.
The modular design of metal racking makes it an ideal option for glass wine cellars of all configurations. Bottles are displayed label forward for easy viewing and accessibility. Label forward racking allows all of the attention to be focused on your collection. Wall mounted metal racking is available in single, double or triple deep showcase-style. The large wine cellar in the photo above is featured in a spec home in Quail West. The builder chose to add the racks to the wall only, allowing the future buyer to customize the racking with floor to ceiling mounted, in front of the glass, if they desire.
VintageView metal racking is available in wall-mount, free-standing and floor-to-ceiling options. The aluminum racks are available in a variety of finishes. We also love the Vino Pins from Vintage View. You can feature your favorite bottles with Vino pins as a showcase wall. Vino pins are available in metal or acrylic. The acrylic are amazing! The bottles appear to be floating on the wall.
The acrylic is a favorite of ours for a floating appearance. Acrylic are only available in single bottle depth. Metal Vin Pins are available in single, double and triple bottle depth.
Cable rod shelving brings the elegance of glass to the interior of your glass wine cellar.
T
he metal cables create a beautiful, sophisticated look that is clean and elegant. You can accommodate collections of all sizes, also easily scale-able, to grow with your collection. Suspended racking is customizable for single, double and triple deep storage options. Rod or Cable systems can
be combined with integrated glass shelving. With a cable system, creative layouts can be achieved while featuring the beauty of each individual bottle.
The bottles appear to be floating in the air. The glass enclosure further enhances the modern, and minimalistic price- Cable wine storage does come at a higher cost. Cable systems require 4 fittings per bottle. The majority of the cost is in the fittings. The cost per bottle is, therefore, greater than the cost per bottle of the metal racking. Installation is intricate as well.
Wood shelving is ideal for storing cases and cartons.
Many glass wine cellars include a mix of shelving to allow the storage of both individual bottles and cases or cartons. Treated Redwood shelves resist humidity and the development of fungus or mildew that can occur in temperatures that are ideal for wine storage.
In addition, wood shelving can be modern or rustic, depending on the variety and coloring of the selected wood, making it an easy choice for any style.
What type of wall-covering should I choose?
The walls in a wine cellar are often overlooked! A glass wine cellar will be a focal point in the home. It is important to distinguish the Wine Room as it's own space. Adding a custom wall treatment is the perfect way to accomplish this.
Have you fallen in love with Stikwood yet? We have!
If you have visited our showroom or poked around on our site, you know how much I love, love, LOVE Stikwood! We love that Stikwood is less expensive and easier to install than traditional wood, and it is equally beautiful. The 3/16-inch panels have a simple, peel-and-stick installation and come in a seemingly endless variety of finishes and colors to complement any décor.
Reclaimed Barrel Oak, Infused with the aroma and tint of countless bottles of wine, is a favorite for glass wine cellars. Reclaimed Barrel Oak was made to live in wine cellars!
Another favorite is the Plum shown in the photo above.
Painted glass panels are great for infusing a quirky pop-of-color into your glass wine cellar.
Painted glass wall panels are making their way into every room of the house, including glass wine cellars. Walls covered in painted glass are grout-free and are extremely easy to clean and maintain. Sherwin Williams or Benjamin Moore colors allow for custom color matching. As a result, the color options are limitless. Coordinate the back painted glass to match, complement or contrast the color of your surrounding room.
You've installed an infinity pool…why not an infinite wine cellar?
Mirrored walls on the interior of your glass wine cellar create the illusion of an endless collection. As a Result, your guests are certain to do a double-take when they notice that your wine collection seems to go on forever.
Antique mirror happens to be one of our other specialties. Antique Mirror is the perfect complement to a wine collection. We keep our handmade antique mirror in stock – or at least we try to! Antique Mirror is in high demand; it's the designers choice for a decorative mirror. You must check out our Antique Mirror Subway Tiles at Striptiles! The dark tones of the tiles provide subtle reflection to create depth and compliment the natural hue of wine bottles.
What about my door options?
Full-glass, frameless doors create a sleek silhouette when paired with a frameless, glass wine cellar. The appearance is striking when combined with an over-sized ladder-pull handle. In addition, Larger pulls add to the luxury look and fit with the overall design of the room. We recommend selecting a ladder-pull handle that is at least 24 to 36 inches in height and has a thick diameter for a dramatic and contemporary look.
Locking ladder pulls, as shown below, are a great option if you plan to lock your wine cellar.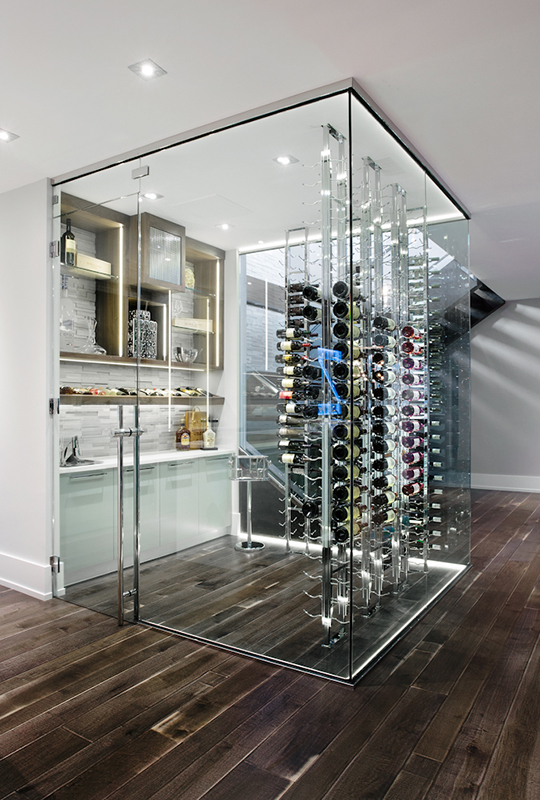 Finally, if security is a concern, consider using a locking handle. Glass-to-glass locks fix the wine cellar door to the glass panel wall, while extra-long Ladder Pulls secure the door into the floor.
Locking hardware, installed close to the floor is another great option. The Floor lock is subtle and out of the sightline.
Glass wine cellars increase the overall value of your home while providing a compelling entertainment space that will be enjoyed for years to come. Showcasing your praiseworthy wine collection in a stunning, custom glass wine cellar is sure to make you the envy of the neighborhood.

Still have a few unanswered questions or just want to discuss your picturesque design ideas? Leave me a comment below or, better yet, stop by our showroom to really get those creative juices flowing!
SaveSave
SaveSave
SaveSave
SaveSave
SaveSave