Mirror Walls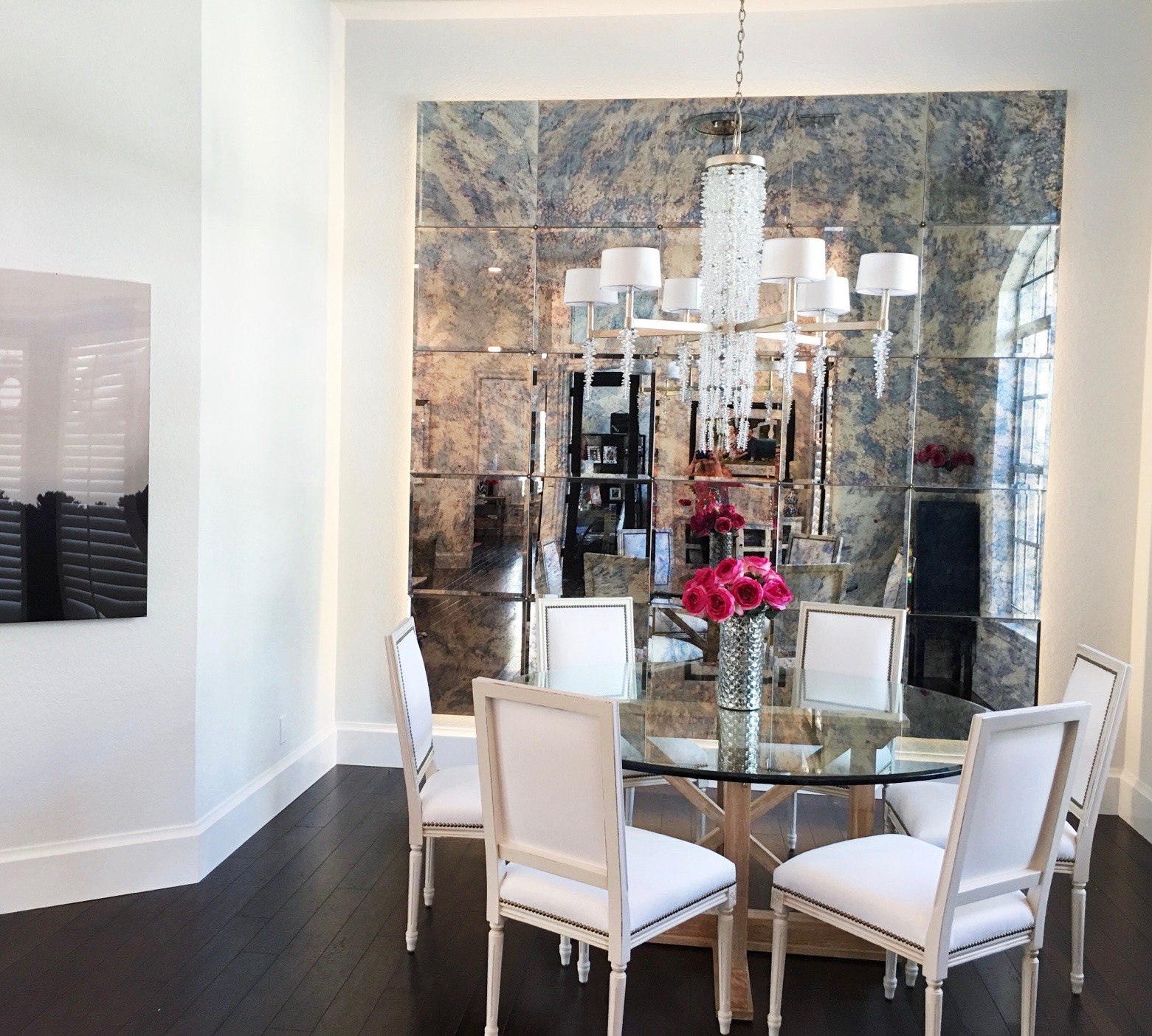 Mirror Walls have been reinvented! Large panels of mirror and bevel strips are a thing of the past. We have so many ideas for a modern take on mirror walls. We can work directly with you or your designer to incorporate a mirror wall into your modern home design.
Why install a whole wall of mirror?
Enlarge the look of a space
Add light with the reflectiveness of mirror
Bring the view inside, reflect your ocean view and enjoy it from every angle
Are you looking to open up a small room? Capture your view of the beach? Designers know the secret, and that is by adding mirrors.. Builders Glass of Bonita, Inc. is still the number one choice for Mirrors in Bonita Springs, Naples, and Estero.
On Trend- Antique Mirror Walls
Designers have changed how they use mirrors in a space. Large wall to wall mirror was the obvious choice. Discriminating designers now agree that regular mirror belongs in the bathroom. Mirrors used on the wall are preferred to be Antique Mirror. The varying patinas available create a warm glow. Our Antique mirror is Handmade and each piece is its own work of art. We distribute Antique mirror to the public and the glass trade. We have sheets of our Antique Mirror in stock for you to pick your sheets.
Antique Mirror is usually installed in tiles or squares. The varying patterns of the antique patinas adds depth and drama that is enhanced when installed in tile format. The pieces of the antique mirror can be further offset by our mirror rosettes.
Antique Mirror is the choice amongst designers for a one of a kind look. Find out more about our antique mirror here.
Why Mirror Walls?
Decorators and designers love to mirror walls to give the illusion of more space. Mirrors can be custom cut and installed on any wall to instantly open up your space and add drama. Builders Glass of Bonita has been covering the walls of Bonita Springs, Naples, Estero and Fort Myers since 1982. Mirrored walls are a look that never goes out of style.
Mirrors instantly make a room feel bigger and more luxurious. When it comes to ideas for where to put a mirror we often tell our customers that you just can't go wrong when it comes to mirrors. Mirrors add light and space that wasn't felt before.
Mirrors are available in almost any size. For a full wall we used to recommend installing the mirror in three sections. The middle mirror section being the largest. We used to minimize the seams, trying to install the mirror in the least amount of sections possible.
This has all changed! Mirror Walls are now preferred to be installed in multiple pieces. The seams of the mirror become a design element. You can further accentuate the mirror seams by adding a custom mirror rosette to the corners of the mirror.
Electrical outlets can be covered with mirror cover plates to make them disapear! We believe our secret to success is setting us apart from the competition with the best product offerings. One of those products is our real glass mirrored cover plates. Holes can be cut in the mirror if you would like to mount a light or picture. The possibilities are endless, but you can never go wrong when adding mirror.
Mirror Wall Ideas
Square or rectangle pieces for modern look
Add sconces to the mirror panels
Beveled mirror squares add drama
Antique mirror installed in tiles or sections
Add Rosettes to the corners for interest
Grey or bronze mirror
Mirror a niched wall
Choose Real Mirror Cover plates
Create a floating mirror feature